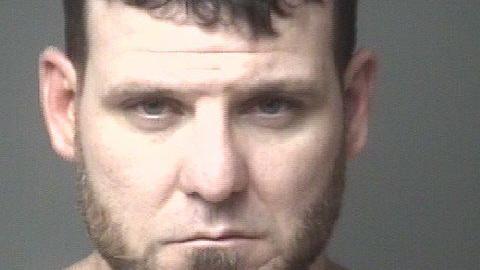 Police: Dubuque man attacks police officers, inflicts concussion on K-9 while arresting him for assault, pursues | News from the three states
[ad_1]

A Dubuque man is accused of attacking police with furniture and a backpack and causing a concussion on his K-9 on Tuesday.
Officers were trying to arrest the man for allegedly assaulting two people and leading law enforcement in a high-speed chase this spring.
Dennis J. Hantelmann, 38, of 2641 Owen Court, No. 37, was arrested at 2:28 p.m. at 180 W. 15th St., No. 106, on charges of five counts of assaulting people in certain occupations with injuries and one count of assaulting persons in certain professions, obstructing injury by a police dog, obstructing official acts and possession of drug-related accessories, as well as warrants involving two counts of assault, escape and driving with revocation.
Details of the incident were obtained from court documents made available on Wednesday. They state that officers responded to 180 W. 15th St., No. 106 to serve four warrants against Hantelmann, who was visiting the residence.
When the officers arrived, Hantelmann grabbed a black book bag and climbed onto a sofa. Officers instructed Hantelmann to drop the backpack and get off the couch.
"Hantelmann refused to comply and became physically aggressive," the documents say.
Two officers used pepper spray and Hantelmann began "throwing and hitting officers with furniture and television stands".
Cpl. Brian J. Wullweber recovered his K-9, Eisen.
"Hantelmann continued his aggressive behavior and refused to comply after being told repeatedly that he would be bitten by Eisen," the documents say.
Wullweber ordered Eisen to bite and apprehend Hantelmann, who "lifted a sturdy, collapsible wooden TV tray and with all his might threw it at Eisen," the documents say.
The television set hit the dog on the head and neck, "causing him to cry out and immediately become disoriented."
The dog was transported to Dubuque County Veterinary Services and treated for a concussion.
The documents indicate that Hantelmann threw a lamp base containing a bulb at Dubuque County Sheriff's Deputy Minister Brett Epping as the Deputy Minister attempted to use a Taser on Hantelmann.
Hantelmann threw an ottoman at police officers Nathan Goedken and Christopher Skorupski, then hit the two officers with a 12-pound backpack containing a metal butane / propane tank, according to the documents. Hantelmann also threw furniture at agents Aidan Carr and Samuel White.
As Deputy Jeremy Mootz deployed his Taser, Hantelmann threw a black box at Mootz.
After Hantelmann's arrest, officers found "a glass pipe commonly used to smoke methamphetamine on the sofa next to where Hantelmann was sitting." Officers also located a used hypodermic needle nearby.
The arrest warrants for Hantelmann accuse him of assaulting Steven L. Moller, 52, owner of the Redemption Center, 160 N. Crescent Ridge, on March 9.
"Hantelmann attempted to enter the center without a face shield," the documents say, and became angry when Moller did not allow him to enter.
"Hantelmann punched Moller three to four times in the face, causing nosebleeds, swelling around Moller's right eye and a cut to his lip," the documents say.
Hantelmann drove away from the scene at the Baymont Inn parking lot, 4025 McDonald Drive. Hantelmann walked over to a law enforcement vehicle coming into the parking lot, then fled at high speed and began moving east on Dodge Street, not stopping at a red light.
Officers chased the vehicle for a short time, but officers ended the chase in Dodge's 3500 block.
In an unrelated incident, Hantelmann is also charged with assaulting Angel E. Thoma, 28, of Dyersville, Iowa, at his residence on April 9.
[ad_2]