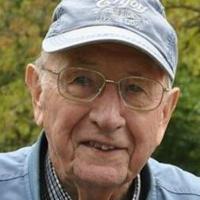 Harry Hoffman | Obituaries | news-gazette.com
RANTOUL – Harry Francis Hoffman, 96, of Rantoul died Friday February 4, 2022 of natural causes, at Accolade Healthcare in Paxton Senior Living.
Harry was born November 8, 1925, the second youngest of five children, in Chicago, to Joseph and Martha Hoffman.
He was predeceased by his wife, Kathy; parents; brothers, James, Alex and Edward; sister, Alice; and large extended family. Harry, the family patriarch, far survived them all.
He married Kathleen Blackman on November 17, 1962 in Manteno, and they lived nearly 56 years of marriage before his death in September 2018.
He is survived by four daughters, Angela (Patrick) Luznicky of Hometown, Ann Schmidt (late Dan Tabert) of Bridgeview, Barbara (Brian) Podojil of Plainfield and Linda (Jim) Kelley of Rantoul; beloved sister-in-law, Mary McMillen of Decatur; many nieces and nephews; and eight granddaughters, Addison Podojil, Emma Podojil, Jennifer Kelley (Roma), Kathryn Luznicky, Kayla Luznicky, Laura Kelley (Josue), Morgan Podojil and Sarah (Dakota) Galt.
Harry's parents were German-Polish immigrants, first-generation Americans, and they influenced his strong work ethic and creative ingenuity. The family originally settled in the West Lawn and Beverly neighborhoods of Chicago, and after graduating in 1944 from Lindblom Technical High School, he attended Woodrow Wilson Junior College, Class of 1946, with the intention to be an artist. One of his first jobs was layout catalogs for Sears Roebuck & Company. However, it was around 1950 that he and his father discovered the work that would become his profession and lifelong passion.
While applying for a job at the Joliet Arsenal, Harry and Joseph overheard a supervisor in one of the offices complaining about some painters who hadn't turned up for a job; they walked in and were hired on the spot.
The Hoffman family built a house in Bourbonnais in 1949, where Harry's parents lived with him for the rest of their lives. He has been involved in various business ventures over the years, including The Bar H Restaurant and Hoffman Haus Gifts, a mail order and concrete statue shop.
Harry also worked as a maintenance painter until 1961 at Manteno State Hospital, where he met his wife in the business office. Shortly before their marriage in 1962, he got a job as a painter at the University of Illinois at Urbana-Champaign, then transferred to the Chicago campus, where he remained until his retirement in 1990. He was a proud life member of District Council 14, Local 194 Painters Union.
Harry and Kathy also lived in Orland Park and Charleston before settling in Rantoul, where they built a house in their final years of old age, next to their eldest daughter. Beyond a period of life when many people are not physically capable, they have remarkably completed many home building and landscaping projects, still busy.
A man ahead of his time, and long before items were commercially available, Harry designed and created hand painted wooden garden decorations and extensive playground equipment for his children which was very coveted by the neighborhood children, who still, in adulthood. , recalls its greatness.
Stories of Harry's life can fill volumes of newspapers, and his political ideas were especially vivid. Politics played an important role in his life, and he could argue a point like no other. He was a riding captain for many years and a friend of the late Senators Victor and Edward McBroom.
Harry had a remarkable sense of humor and loved to joke and laugh. Although he didn't continue with art professionally, his comic cartoons were really part of our lives. He also painted several murals, including a large European village on a kitchen wall.
Beyond all of Harry's great attributes, his faith and humble ability to apologize is an enduring example to his family and to others on how to live a successful life. He prayed for everyone daily and always lent words of encouragement, a helping hand, or sent a handwritten note, card, or thoughtful gift, even to complete strangers. He corresponded with one of his primary school teachers, a nun, all his life. Although raised Catholic, he has attended many churches over the years and for the past 15 years has been a member of First Baptist Church, Rantoul where he has held various roles. One of her favorite activities was being part of the Harmony Sunday School class. Well into his 90s, he enjoyed visiting residents of area nursing homes, along with his friend, Larry.
Harry's devotion to his family and friends will be remembered forever. It's hard to imagine the world without Harry; he was truly one of a kind.
The family would like to thank the kind staff at Accolade Senior Living and Transitions Hospice for their compassionate care of Harry during his last year of life.
Visitation will be from 5-7 p.m. on Wednesday, February 9 at First Baptist Church, 401 Glenwood Drive, Rantoul, with Lux Memorial Chapel, Rantoul, making arrangements. A private ceremony at the family cemetery will be held Feb. 10 at Salem Cemetery, Carrier Mills.
In lieu of flowers, a donation to Harry's church, in his name, would be appreciated.