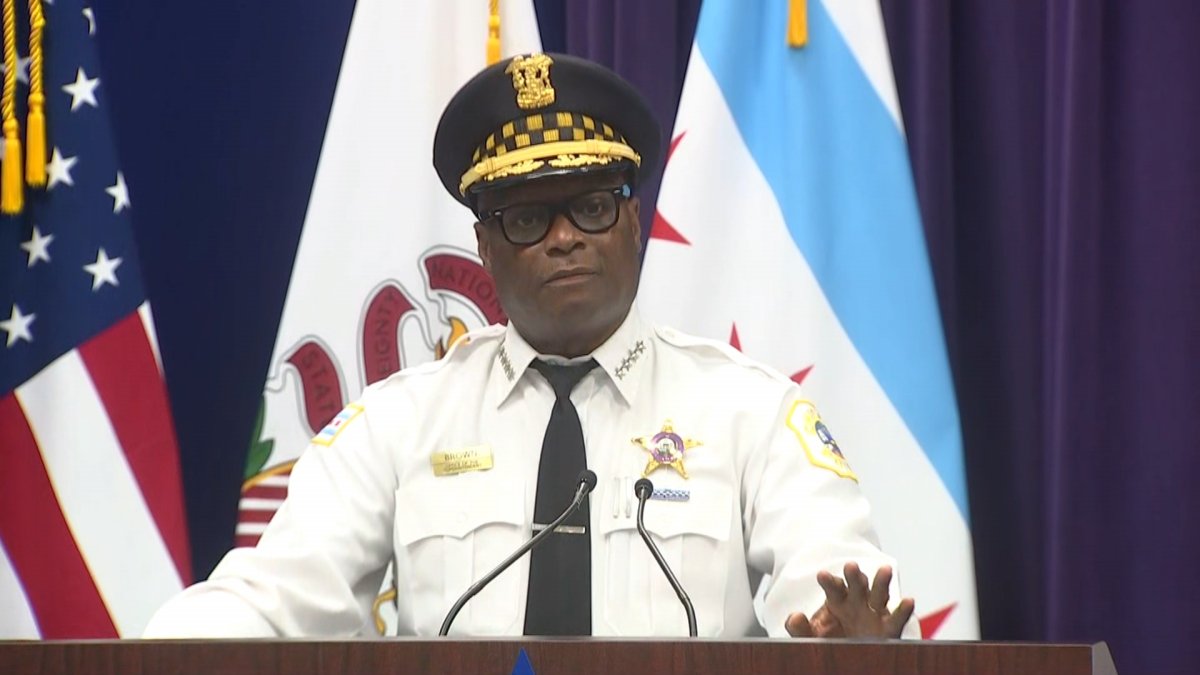 Chicago's top cop says adding more resources downtown may mean officers are working scheduled days off – NBC Chicago
Chicago Police Superintendent. David Brown provided an update on violent crime in the city on Monday and asked for the public's help in identifying a duo wanted in 8 armed robberies, including one that left a 23-year-old man in critical condition after being shot several times.
"I don't want to delve into the investigation and what exactly the detectives are doing," the superintendent said. Brown said at a press conference, "but we really need help. And I have no doubt that there are people who know exactly who these offenders are. And we just need this information."
Brown also said the department will seek to increase resources in specific areas and blocks that are seeing an increase in violent crime.
"We still need to add more resources to our downtown, to our CTA as well as to our city as a whole," Brown said, as the summer months approach. "So more to come in regards to adding more and more resources."
However, Brown said, this will come at the expense of officers' schedules.
"It will require adjustments to our schedule for officers, and it is not done lightly. The schedule is something we are really concerned about."
Brown said the department does not ask officers to cancel vacations, but they can ask the officer to work one of their two regular days off during the week.
The press conference comes as carjackings and violent crime continue to rise in areas of the city – including River North, Lincoln Park and The Loop – which have not typically seen a high volume of violent crime in the past.
The loop
On May 3, in the 400 block of S. Wells, Chicago police say just after 1:30 a.m., three people were sitting inside a blue Dodge Durango at a red light when two unknown men fired from the sidewalk.
A 26-year-old woman, who was crossing the street at the time, was also hit in the leg by the gunfire.
Police say inside the vehicle, a 38-year-old man inside the vehicle was shot in the back, a 28-year-old woman was shot in the leg and a 31-year-old man the man was also shot in the leg.
Since the start of the year in the Loop, carjackings have more than doubled, while thefts have increased by 177%.
North River
On May 6 at 9:53 p.m., a 38-year-old man was driving eastbound on the 100 block of W. Chicago Ave. when a brown sedan approached the vehicle, police said.
According to police, an unknown person then began shooting at the man's vehicle from the passenger side. The victim was shot in the abdomen, groin and right thigh.
Last month, following a shooting outside a River North business and a man shot dead in a River North hotel room during an armed robbery, the county sheriff de Cook announced that the neighborhood would have a new Sheriff's Office Command Post and an increased Sheriff's Police presence. in the zone.
Lincoln Park
On May 6, a 23-year-old man was discovered with multiple gunshot wounds in the 1300 block of West Webster after he was robbed and held at gunpoint just after 3 a.m., police said.
The man, a culinary student, is hospitalized in critical condition.
Lincoln Square
On May 8, police issued a Neighborhood Community Alert for recent sexual assaults after 3 women said they were assaulted over a period of less than 30 days. At least one of the women said they were attacked in broad daylight, and officials say it appears the same person carried out each attack.