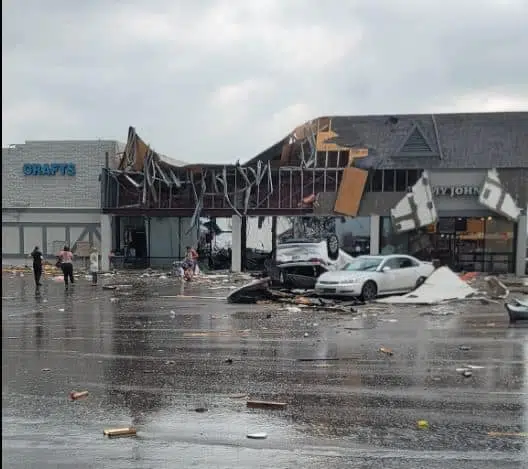 BREAKING: Eskymo baseball team safe after Gaylord tornado
The town of Gaylord was under a state of emergency Friday night after a tornado hit the town, killing at least one person and destroying many homes and businesses.
The Escanaba High School baseball team was caught in the middle of it all, but somehow the tornado hopped over the Baymont Inn & Suites where the Eskymos were staying. It is less than a mile from the M-32 corridor where many buildings were flattened by the storm.
The Eskymos arrived in Gaylord at 2:30 p.m. Friday afternoon, but their 4:00 p.m. game at Gaylord High School had already been canceled due to approaching thunderstorms from the west. No one knew what power the storm would bring to the area a few blocks from the team's hotel.
"We were all sitting in the hotel room playing MLB The Show, when we all got a notification on our phones that a tornado was coming," Eskymo catcher Ben Johnson said. "We were all joking about it, oh, a tornado is coming. But seconds later we look out the window and the tornado was literally there. And then it starts to rain and all that.
"He said to take cover, but knowing us, we went out to investigate anyway," Eskymo pitcher Nick Chiu said. "When we came out, we all started recording, and we see a big funnel starting to go down. It looked pretty bad, like two clouds coming together. He just fell. And as he was going through the city, we could see a bunch of air clouds moving really fast, and he hit an electrical transformer and blew it up. Then we all started running away.
"It was a big surprise for all of us," Eskymo pitcher Eli Gardner said. "It came out of nowhere, it was like. We all tried to take videos and stuff, but once the electrical transformer blew up, we all sprinted as fast as we could towards the hotel. And once inside the hotel, all the lights were off, of course. We just sat in the hallway for a while, probably an hour, until we were informed that we had a new hotel in Mackinaw City.
No one was injured among the Eskymo team and family members, although some were briefly locked up while shopping in the city. The whole crew and family members moved to Mackinaw City and that's where they were spending Friday night.
In Gaylord, at the last word, one person died and 43 others were injured. The town of Gaylord was under a 'shelter-in-place' order with a city-wide curfew in effect until 8 a.m. Saturday morning. Most of the town had no electricity, and cell phone and internet services were limited. Very few businesses remained open, and I-75 ramps in the city were blocked by police.
Sirens blared throughout the late afternoon as emergency crews responded to the many damaged buildings and treated the injured. Late Friday evening, Governor Gretchen Whitmer declared a state of emergency.
"My thoughts are with the families and small businesses affected by the tornado and severe weather in Gaylord," Governor Whitmer said. "I have declared a state of emergency for Otsego County to rush resources to affected areas, and the State Emergency Operations Center has been activated to coordinate our state's response. "Our state is grateful to the first responders and utility workers who work hard to keep everyone safe. Michiganders are tough. We are resilient. And there's no challenge we can't meet together."
The Escanaba Eskymos baseball team will play in Cheboygan on Saturday at 12:00 p.m.